NutriBullet Juicer Pro: Info & Review
Explore our detailed review of the NutriBullet Juicer Pro, an excellent pick for serious juicing enthusiasts.
OPINION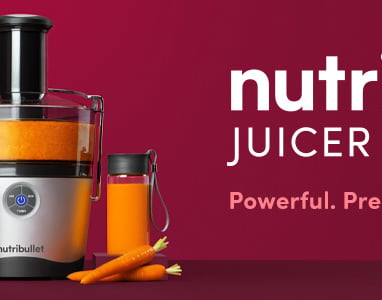 In the world of juicers, the NutriBullet Juicer Pro is a centrifugal model that promises to make the juicing process both swift and straightforward. With its robust motor designed to tackle even the toughest fruits and vegetables, it delivers a range of user-friendly features that streamline the whole process, right from juicing to cleaning.
Unleashing the Power of the NutriBullet Juicer Pro
Key Features:
The NutriBullet Juicer Pro stands out from the crowd, boasting several features that make it a worthy choice for those passionate about juicing. Here's a detailed breakdown:
Powerful Motor: The juicer is equipped with a robust motor that is powerful enough to juice even the toughest fruits and vegetables. This strong motor ensures the maximum extraction of juice, leaving behind minimal waste.

Generous Chute Size: The wide chute can accommodate whole fruits and vegetables, significantly cutting down on your preparation time. No more wasting time cutting up your produce into tiny pieces!

Dual-Size Food Pusher: This smart feature allows users to choose between wide and narrow feed chutes depending on the size of the ingredients being juiced. It's flexibility and practicality rolled into one feature!

Turbo Setting: The NutriBullet Juicer Pro also features a turbo setting designed to juice hard ingredients. This setting increases the juicer's power, effortlessly processing harder ingredients like beets or carrots.

No-Drip Spout: The spout is designed to prevent any juice from spilling, keeping your kitchen counter clean and free of sticky messes.

Dishwasher-Safe Parts: All of the components that come into contact with food are dishwasher-safe, making clean-up a breeze.
Diving Deeper into the Features and Performance of NutriBullet Juicer Pro
Performance: Our testing results demonstrated that the NutriBullet Juicer Pro performs as well as it claims. It managed to juice a wide range of fruits and vegetables swiftly and effectively, producing smooth, full-bodied juice brimming with flavor. Its turbo setting proved especially effective at juicing hard ingredients, reinforcing its powerful juicing capacity.
Cleaning Process: Clean-up is often the least appealing part of juicing, but the NutriBullet Juicer Pro simplifies this task. All parts are dishwasher-safe, so you can either pop them in the dishwasher or hand-wash them if you prefer. The inclusion of a dedicated cleaning brush helps get into all the corners and crevices, ensuring thorough cleaning.
Final Verdict:
For those seeking a powerful, user-friendly centrifugal juicer, the NutriBullet Juicer Pro emerges as a strong contender. Although it leans towards the pricier side, the quality, performance, and ease-of-use justify the investment for those serious about their juicing habits.
Pros:
Powerful motor

Large chute

Dual-size food pusher

Turbo setting

No-drip spout

Dishwasher-safe parts
Cons:
A bit expensive

Can be noisy at times
Overall Rating: 4.5 out of 5 stars
Recommendation:
The NutriBullet Juicer Pro is a high recommendation for anyone on the hunt for a powerful, easy-to-use centrifugal juicer. The price might be a bit steep, but for the convenience, power, and quality it delivers, it is undoubtedly a worthy investment for committed juicing enthusiasts.