Healthy Cooking with the GoWISE 3.7 Qt Air Fryer
Discover the GoWISE 3.7 Qt Air Fryer, your key to healthier, easy, and quick meals. Learn about its features, uses, and pros & cons.
OPINIONAPPLIANCES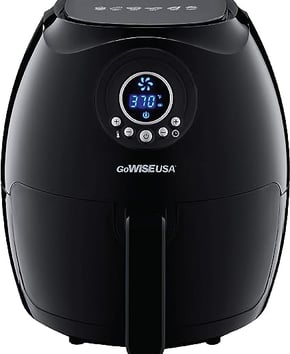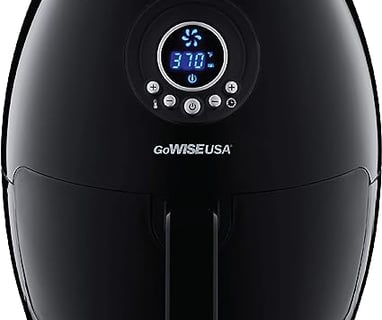 How many people will a 3.7 quart air fryer feed?
A 3.7-quart air fryer, like the GoWISE model, is ideally suited for small to medium-sized families. Depending on the dish prepared, it can comfortably serve meals to 2-4 people. However, for larger gatherings or larger families, a larger capacity air fryer may be more appropriate.
Are you a home cook who craves restaurant-quality food without the restaurant-quality calories? If so, allow me to introduce the perfect kitchen companion for you – the GoWISE 3.7 Qt Air Fryer. This remarkable appliance is changing the way people cook, providing a healthier, easier, and quicker option for preparing meals.
All about the GoWISE 3.7 Qt Air Fryer
The GoWISE 3.7 Qt Air Fryer is a revolutionary kitchen gadget designed for anyone who wants to eat healthier but doesn't want to give up the delicious, crispy texture of fried food. This air fryer offers a simple, convenient way to cook without the guilt, using little to no oil.
Noteworthy Features:
This GoWISE air fryer stands out for its innovative features. It has an adjustable temperature range from 170 to 400 degrees Fahrenheit, offering the flexibility to cook a broad array of dishes. Whether you want to whip up some crispy fries, roast a chicken, or bake a pizza, the GoWISE 3.7 Qt Air Fryer has you covered.
What makes this air fryer stand out is its 8-in-1 cooking presets. From fries and poultry to cake and pizza, all you have to do is select your dish, press a button, and let the appliance do the rest.
The GoWISE 3.7 Qt Air Fryer boasts a non-stick FDA-certified and PFOA-free pan and detachable basket equipped with a cool-touch handle. It also has a modern, sleek design that will add style to any kitchen.
The cooking capacity of 3.7 quarts is perfect for small to medium-sized families, serving up to four people. Furthermore, it is compact enough to fit in any kitchen, measuring 12 x 8 x 8 inches and weighing just 13 pounds.
Usage:
Using the GoWISE 3.7 Qt Air Fryer is as simple as 1-2-3. First, choose your food item and put it in the detachable cooking basket. Second, select the appropriate temperature and cooking time, either manually or using the preset options. Third, wait for your food to be cooked. There's even a built-in timer that automatically turns off the appliance after 30 minutes, so you don't have to worry about overcooking.
With the GoWISE air fryer, you can fry, roast, grill, and even bake. Whether you want to prepare a quick snack, a side dish, or a complete meal, this appliance can handle it all.
Pros and Cons
Like every appliance, the GoWISE 3.7 Qt Air Fryer has its pros and cons.
Pros:
Healthier Cooking: Using rapid air circulation technology, this air fryer cooks food with little to no oil, reducing fat and calories.

Versatility: With its adjustable temperature settings and eight cooking presets, the GoWISE air fryer can cook a wide variety of dishes.

Convenience: The detachable basket and non-stick pan make for easy cleaning. Plus, it's dishwasher safe.

Safety: This air fryer is equipped with an auto shut-off feature, and the cool-touch handle ensures safe handling.

Compact Size: Its small footprint is ideal for kitchens with limited counter space.
Cons:
Limited Capacity: Although perfect for small to medium families, those with larger families or who regularly entertain may find the 3.7-quart capacity limiting.

Learning Curve: Some users may need time to get used to the temperature and time settings for different foods.

Exterior Heat: The outer surface can become quite hot during use, so caution is necessary.
Despite a few cons, the GoWISE 3.7 Qt Air Fryer's advantages outweigh the drawbacks, making it an excellent addition to any modern kitchen.
Conclusion: The GoWISE 3.7 Qt Air Fryer is a gem of an appliance, combining health, versatility, and convenience in one compact package. Whether you're a culinary novice or a seasoned home cook, this air fryer is a must-have. From crispy, delicious appetizers to mouth-watering main courses and even scrumptious desserts, the possibilities are endless.
Though it might require a little practice to get the settings right for each dish, the results are undoubtedly worth it. Yes, you might experience a bit of exterior heat, but as long as you're careful, it's a minor inconvenience compared to the substantial benefits.
So why wait? Embrace the magic of cooking with the GoWISE 3.7 Qt Air Fryer and transform your kitchen into a healthier, more efficient place today!